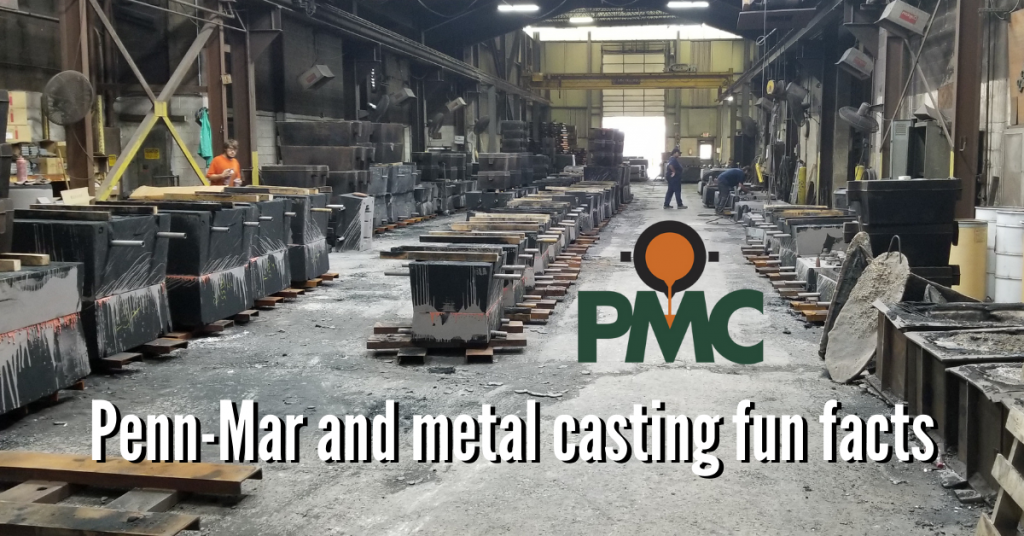 PMC employees are happy
PMC offers comprehensive onboarding and benefits at 60 days. Our continuous training and fantastic culture is evidence by our average employee tenure of eleven years. The management staff at our PA office has more than 200 decades of combined foundry experience.
Casting is good for the economy and the planet
According to the American Foundry Society (AFS), in an article entitled Metalcasting Facts and Tidbits written for Manufacturing Day 2019, every dollar that's spent on manufacturing produces $1.37 of economic value or activity. That's more than any of the other leading economic sectors. the United States iron and steel industry contributes approximately $520 billion annually to the economy.
Not only does our corner of the industry make a large economic impact, but it also makes an environmental impact. The same article by AFS explains that foundries inherently are recyclers and have been for over 5,000 years.
Our history runs deep
Penn-Mar Castings, LLC traces its roots back to the 1840s! In 1840, Samuel Fitz operated the Hanover Foundry which became the Fitz Water Wheel Company in the summer of 1902. This machine shop provided several services ranging from casting of segment and spur gears to metal parts needed in outfitting horse wagons in addition to building wooden waterwheels.
Iron castings last
According to the Crescent Foundry Blog (2017), iron castings can last up to 100 years, meaning cast components are extremely durable and cost-effective. The casting process is also extremely flexible. If a material can be melted, it can be turned into a casting. By adding other elements, you can create a variety of mixtures with different properties. They can be used to cast a wide variety of components in an infinite variety of complex shapes that can withstand many different environments.
That's why castings are extremely important. They maintain their quality and performance in pressurized environments, extreme temperatures, changing temperatures, while in constant motion, or even facing constant friction.
According to Crescent Foundry, "cast iron has a property of resistance from oxidation, corrosion, wear or abrasion. It (also) has excellent damping capacity, especially the gray cast iron. (This means it) …can be used to reduce noise."
Penn-Mar is on time
We're very proud of our 97% on-time delivery rate.
To find out what PMC can do for you, contact us today.