Have you ever wondered what Penn-Mar Castings can do for you? Be sure to check out our new capabilities document.
Download our Capabilities document (PDF)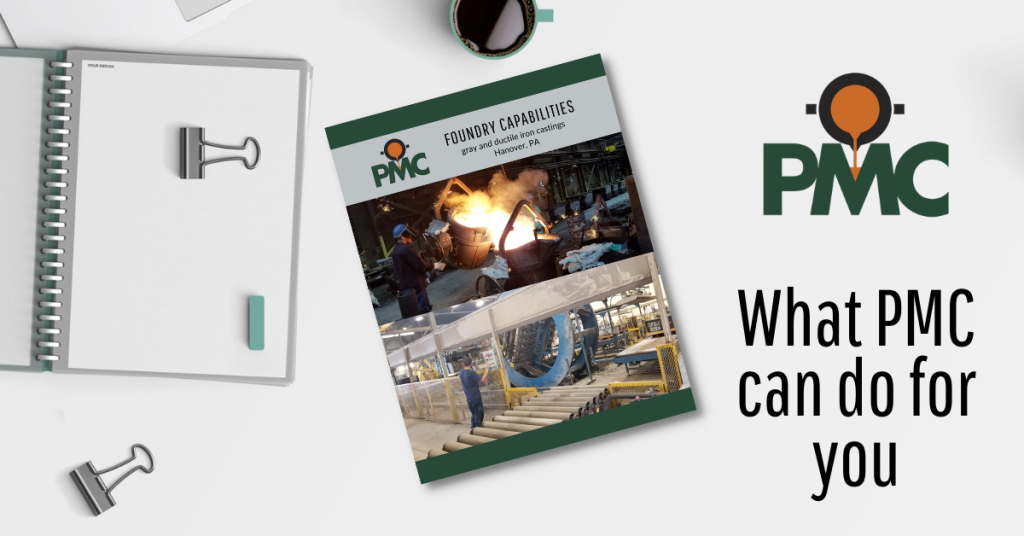 PMC Capabilities
FACILITY
80,000 sq ft facility
Non-union employees
Gray and ductile iron castings: 150-5,000 lbs
1,000 net ton capacity per month
MELT
2- Two metric ton Inductotherm coreless induction furnaces
MOLD MANUFACTURING (FURAN NO-BAKE)
1- 1,500 lb/min CE Cast sand mixer
2- 10,000 lb roll-over machine
2- Mold flow coat stations
COST-EFFECTIVE
Scale economy through decentralization leading to significant decrease in transaction fees
MOLD ASSEMBLY/POURING BAY
10,000 sq ft
3-5 ton overhead cranes
CORE MANUFACTURING
1- 1,000 lb/min CE Cast sand mixer
1- 300 lb/min CE Cast sand mixer
1- Dependable 200 shell core machine
1- Shalco U-180 shell core machine
Core blowing capabilities
BLAST AND CLEANING
2 – Pangborn 4 in 1 reclamation blast machines
1 – Pangborn reblast machine
Paint booth
QUALITY & LABORATORY
Romer Absolute Arm
Polyworks Inspection Software
MAGMASOFT casting process simulation software
GE Ultra-Sonic inspection gauge
Panametrics ultrasonic gauge
LECO CS744 Carbon & Sulfur Determinator
ARL 3460 Spectrometer (up to 24 elements)
Full-service metallographic lab
LECO image analysis
Full-service sand lab
Wondering what else we can do for you? Contact us today!