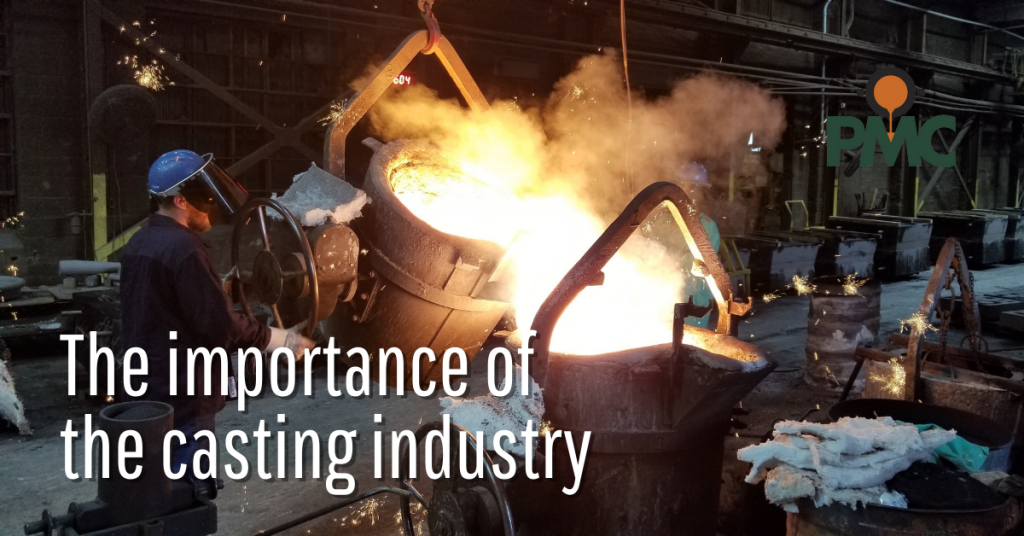 How does the casting industry fuel everyday life, the economy, and many other industries?
Driving the economy
Since 1991, ninety percent of all durable goods produced each year incorporate cast metal components. Twenty-eight years ago, U.S. metal casting was a $19 billion dollar industry. Since then, its annual revenue has more than doubled to $33.7 billion. It provides 200,000 direct jobs and even more indirectly through its supply chain (Kaempf, 1993; AFS, 2019).
For an industry primarily dominated by small businesses, we make quite a big impact.
Casting in our everyday lives
According to the American Foundry Society (AFS), "you are almost never more than 10 feet from a metal casting" (afsinc.org, 2019).
What's the secret to that extra flavor in your favorite recipe? It just might be a cast iron pan.
"Metal castings are part of every car and truck, every railway car and engine, every building and every piece of heavy equipment used for construction and agriculture, and much more," says AFS. (afsinc.org, 2019).
"Iron is the most-used metal in our lives" (Roth, 2012). Iron makes up "5 percent of the earth's crust and some ores contains about 70 percent of iron. In addition, those ores can easily be extracted from earth." (Roth, 2012).
This means iron is plentiful and accessible, and that's why it's the most commonly casted metal in the forms of gray and ductile iron, according to a Thomas for Industry blog entitled Materials Used In Castings.
An industry-supporting industry
This list, composed by the AFS, includes only the industries that directly rely on castings. There are even more industries that indirectly rely on castings and wouldn't be the same without them.
Defense
Automotive
Construction
Agriculture
Aerospace
Oil and gas (energy sector)
Mining
Railroad
Municipal/water infrastructure
Transportation
Health care
In an upcoming article, we'll dive deep into these and other industries to see just where they'd be without castings.
Supporting small businesses
As we mentioned, the U.S. metal casting industry is composed of mostly small businesses. In fact, 75% of domestic metal casting companies operate with less than 100 employees (AFS, 2019). The industry has always been this way, too. In 1991, only 7 percent of casting businesses employed more than 250 people (Kaempf, 1993).
This gives even more dimension to the importance of our industry because, in many industries, the size of the organization is a symbol of success. Many small, local businesses struggle to succeed or make a large impact. So, the metal casting industry is quite unique in the way it celebrates and runs on small, family-owned, local businesses.
Inspiring individual growth
In the casting industry, it's all about the process and quality results. How do we create an efficient process? How do we generate quality results? It all comes down to inspiring and training quality employees.
Here at PMC and across The Lawton Standard family, we make improvements to our process through LEAN. Not only does the everyday foundry environment require effective teamwork, but by involving employees in continuous improvement initiatives, we are able to help them enhance their teamwork, critical thinking, and problem-solving skills.
Lastly, this industry engages employees who learn by doing and teaches them a trade that they can practice for life. Foundries like PMC offer many opportunities to their employees to advance, learn other areas of the foundry, and move into supervisory positions. The employees are the ones who actually drive this industry. As you can see, we ensure that we deliver value to our employees, too.
Sustainable by nature
The casting process is inherently sustainable and many companies are involved in initiatives aimed at creating positive change for the environment. However, the metal casting industry as a whole is playing an even larger role in affecting positive environmental change.
In an article titled "Shaping America's Future," the North American Die Casting Association (2019) highlights that "Castings also play an integral part of the global energy-production chain. In addition to traditional uses for castings in oil and gas production, they are essential to the growth of renewable-energy sources and in the production of more energy-efficient vehicles. Bio power utilizes several cast components, including industrial fans, pumping equipment, piping and turbines while propellers, pumps and pumping castings are vital to the production of geothermal power. According to the U.S. Department of Energy (DOE), the areas of most promise for alternative energy resources include biomass, geothermal heat, pumps, hydropower, solar photovoltaic, wind, and energy efficiency. Metal castings will play a key role in the expansion of all renewable energy sources."
The casting industry is important for so many reasons. It supports other industries, small businesses, the global economy, the growth of the people who dedicate their time every day to building the industry and the environment. PMC is proud to be a part of this industry.
Works Cited
Advanced Solutions International, Inc. Shaping America's Future, https://www.diecasting.org/wcm/Die_Casting/Shaping_America_s_Future/wcm/Die_Casting/DC_Shape.aspx?hkey=ef77621e-91b7-47cb-ba35-f4d8e1671a1a.
August 18th, 2012 by tinaroth. "The Importance of Iron in Our Daily Life." Iron Map, http://www.ironmap.com/the-importance-of-iron-in-our-daily-life/.
"Casting Applications." The Metal Casting, http://www.themetalcasting.com/casting-applications.html.
"Importance of Metalcasting." American Foundry Society, https://www.afsinc.org/importance-metalcasting-0.
"Industry Statistics." American Foundry Society, https://www.afsinc.org/industry-statistics.
"Materials Used In Castings." ThomasNet® – Product Sourcing and Supplier Discovery Platform – Find North American Manufacturers, Suppliers and Industrial Companies, https://www.thomasnet.com/articles/custom-manufacturing-fabricating/casting-materials.