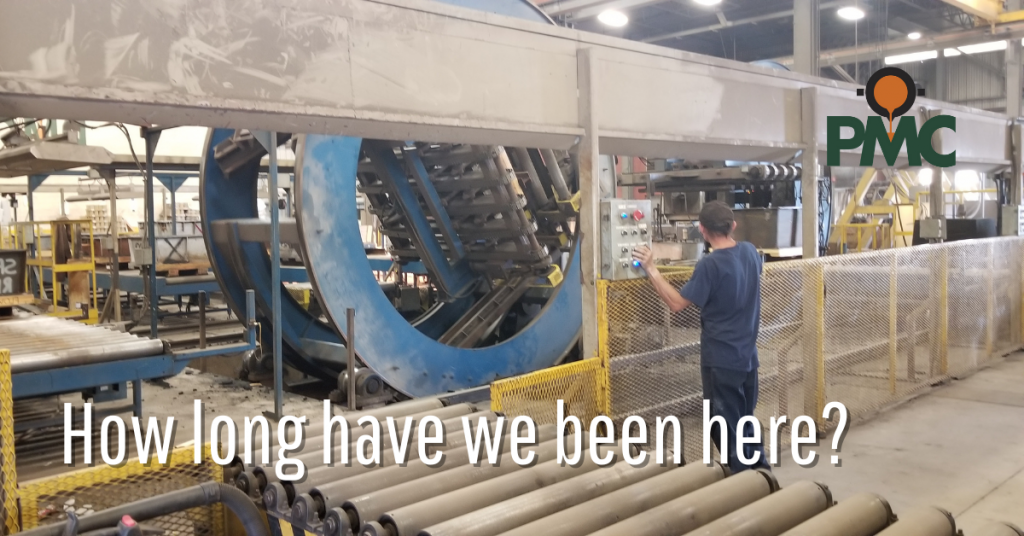 We don't know the exact date! Our oldest records track back to the 1840s, but we can't seem to find the precise date that PMC had its start. That's how you know we've been here a long time! Learn more about our history here. We have been casting parts in the 150-5000 pound range since the 1960s.
Management
The management staff at our PA office has more than 200 decades of combined foundry experience, giving you the confidence that they know how to meet or exceed your current expectations. Meet our team here.
Average tenure
The average Penn-Mar Castings, LLC employee has been here for 11 years. According to information collected by LinkedIn, other regional foundry tenures are 3.2, 3.5, 7.5, 3, 4.7, 8.3, and 6 years. The only one we found that was higher is our sister company, The C.A. Lawton Co., which boasts a remarkable 13 years! Our employees are well trained, well-compensated, and treated well. They're going to be here for the long haul for all your casting needs. Find out if we're hiring.
The Lawton Standard family
The Lawton Standard family of companies has a rich history that spans for generations. The C.A. Lawton Co. in De Pere, Wisconsin, traces its roots back through five generations of Lawtons, starting the company we know today in 1879. Find C.A. Lawton's history here.
The C.A. Lawton Co. also operates in Minster, Ohio. The Minster location has a long history tracing back to 1896. In 2020, we partnered with The C.A. Lawton Co. in De Pere, Wisconsin. Check out the Minster location here.
Temperform in Novi, Michigan was founded in 1970 and boasts 700+ years of employee foundry experience. Learn more about Temperform here.
Thanks for taking the time to learn about our longevity and experience. We look forward to getting to know about your experience. Don't hesitate to get in touch with us directly today.