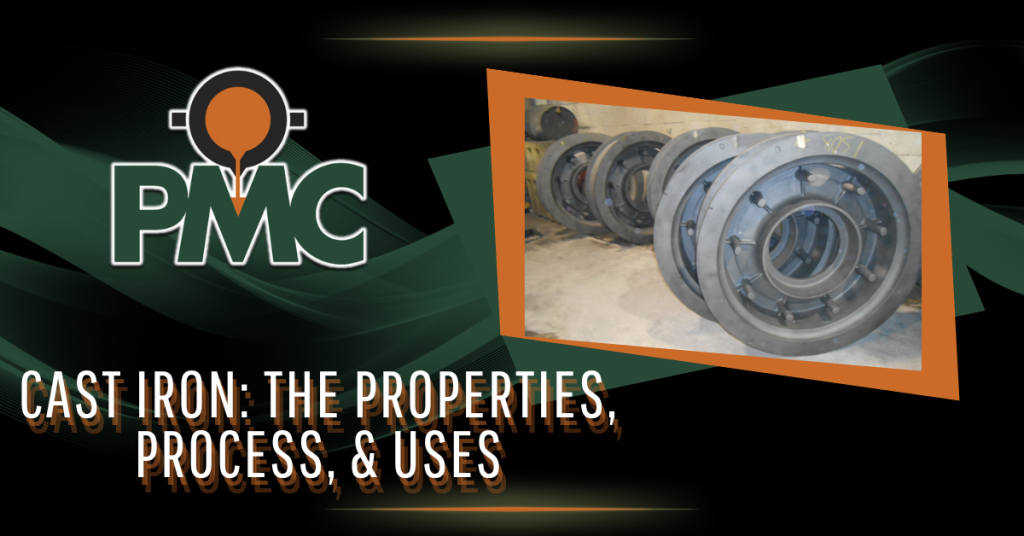 Properties – What is cast iron?
Cast iron contains a carbon content greater than 2%, typically somewhere between 2-4%. There is also the presence of silicon between 1-3%. The combination of the carbon and silicon give cast iron a great deal of castability, meaning that it is easier to create quality castings. Cast iron is also usually preferred when making castings because it has a low melting temperature.
Process – How is it made?
The process of how it is used is what gave cast iron its name. Iron-carbon alloys are heated (typically in a furnace) until it becomes molten, and is then poured into a mold. The mold then sits to allow it to harden and become a casting. During this time, things like alloying elements or heat-treating processes take place that alter the metallurgical properties of the iron, which is oftentimes the step in which a cast iron falls into one of the following groups: ductile, gray, white, or malleable.
Uses – What do we use it for?
With all of its great properties including castability, low melting temperature, as well as deformation and wear resistance, cast iron has many uses. Some of these uses include:
• Machinery
• Cookware
• Machinery
• Pipes
• Chains
• Gears and gearbox cases
• Brake discs
• Architecture
• Mining equipment
• Shafts and rods
Sources:
https://www.machinedesign.com/materials/article/21832007/cast-iron-and-wrought-iron-whats-the-difference
https://www.reliance-foundry.com/blog/cast-iron
https://www.metalsupermarkets.com/what-is-cast-iron/
https://www.britannica.com/technology/cast-iron
https://en.wikipedia.org/wiki/Cast_iron#:~:text=With%20its%20relatively%20low%20melting,such%20as%20cylinder%20heads%2C%20cylinder